Otaru Port
Marina Guide

Otaru Port Marina
The Otaru Port Marina not only provides boat owners with somewhere to store their vessels and a full range of maintenance services, but runs tours and charters, and provides a variety of other services so that all people can enjoy marine leisure.
Marina Facilities
Berths
There are marine moorings and land boats.
There is a visitor berth.
Please contact us for details.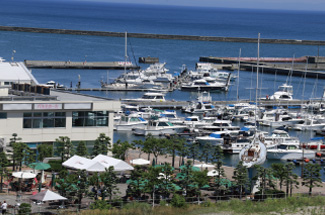 Fueling facilities
High-octane gasoline, diesel and duty-free diesel can be provided for vessels both on land and in the water.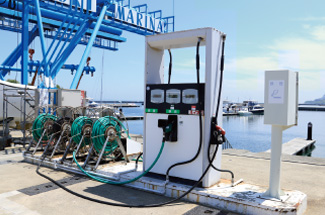 Electricity & water
Electricity and water are supplied at all sea and visitor berths. Electricity is supplied at 100V/30A at most berths, but there are a number of berths where it is available at 200V50A.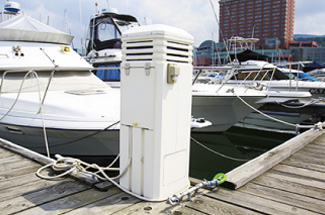 Crane & ramp
These facilities for raising and lowering vessels out of and into the water are available even to the owners of visiting vessels. The crane can be used for vessels weighing up to 20 tons, and the ramp can accommodate vessels that weigh more than 20 tons or are more than 60 feet long.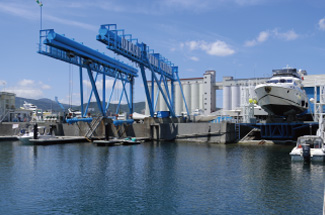 MarintenanceShop
With a fully-equipped workshop, which can accommodate two 35 foot vessels, and a team of experienced staff, we will see that your boat or yacht is kept in top condition. We can also provide maintenance for visiting vessels and vessels docked outside of the marina, so please feel free to contact us if you are thinking about having your vessel serviced or refitted.
※Please contact us for information about various maintenance services.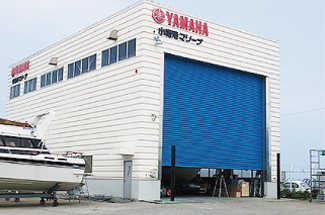 Onshore facilities
For the comfort and convenience of boat owners and visitors, we also have a range of onshore facilities. These include storage facilities, a shop, a cafe, shower rooms, a coin laundry, BBQ space and more.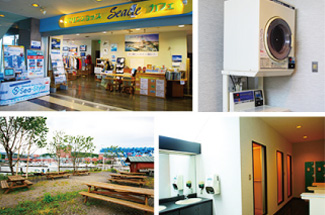 Charges for people using visitor berths
Berth use
1 to 7 days (up to 168 hours): ¥110 x length of vessel (in feet) x number of
days 8 days or more (169 hours or more): ¥165 x length of vessel (in feet) x number of days
Water, electricity & facility use: ¥22 x length of vessel (in feet) x number of days
※Please contact us for information about using berths long-term.
Charges for crane and ramp use
| Length of vessel (feet) | Price (¥) | Length of vessel (feet) | Price (¥) |
| --- | --- | --- | --- |
| 17以下 | 6,160 | 30~34 | 24,200 |
| 18~19 | 7,260 | 35~39 | 36,300 |
| 20~22 | 9,680 | 40~44 | 48,400 |
| 23~24 | 12,100 | 45~49 | 60,500 |
| 25~29 | 16,940 | 50以上 | 72,600 |
※The above prices include tax, and are for one lowering and one raising of a vessel. Half of the shown price will be charged when only lowering or only raising is required.
※Please be aware that we may not be able to raise or lower vessels because of poor weather and sea conditions etc. Again, please be aware that we cannot raise or lower a vessel when the owner does not have valid certification for it.
Tours & Charters
So that all people can enjoy marine leisure, and can enjoy the beauty of Otaru's marine environment, we operate boat and yacht tours and boat charters.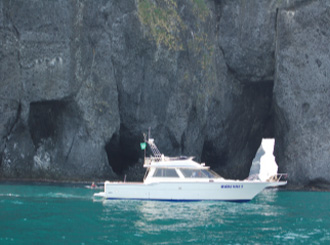 Boat Tours
Our tours provide great views of Otaru's green seas and the cliffs and fascinatingly-shaped rock outcrops along Otaru's coastline.
Capacity

2 to 12 people

Prices

Adults (12+), ¥5,000 / Free under 12 years old
Children under 6 years old are free of charge if one parent is accompanied by 2 children.

Tour Time

about 1.5 hour

Departure Times

14:30

Operating Days

Tours operate from May until October, but the operating days differ from month to month. Please contact us for more information.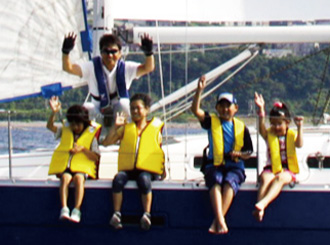 Yacht Tours
Feel the sea breeze during a leisurely cruise on the yacht of your dreams. These tours are run on a hands-on basis, with participants getting to steer the yacht and raise and lower the sails under the supervision of our staff.
Capacity

from 2 to 6 people

Prices

¥5,000 per person / Elementary school students Free
Children under the age of 6 can not board.

Tour Time

about 1.5 hours

Departure Times

10:30 & 13:30

Operating Days

from May until September
※Please contact us in advance if you would like to participate. Again, please feel free to ask about arranging tours at times other than those shown above. We may be able to accommodate your request. Tours will not operate when we are holding events at the marina.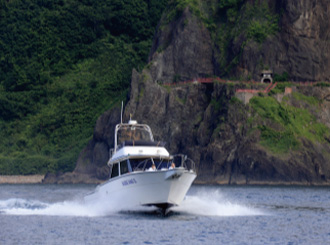 Charter Cruises
Our basic charter is a 3-hour cruise in the scenic marine area off the Shakotan Peninsular. We also offer 4 and 5 hour cruises, and can accommodate parties and other events onboard.
Capacity

a group of up to 12 people

Prices

¥54,000 per group for a 3 hour cruise
※Please be aware that the course may change due to the weather and sea conditions on the day. Again, we can arrange a departure time to suit you, but the times for the charter should be within the marina's operating hours. Please contact the marina for more information.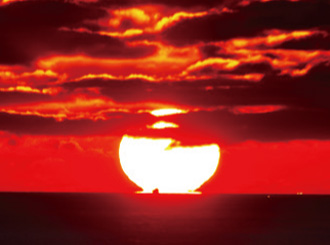 Sunset Charters
Enjoy beautiful on-the-water views of the sun setting over the Sea of Japan with family friends or someone special.
Capacity

a group of 2 to 12 people

Prices

¥ 33,000 per group

Tour Time

about 90 minutes

Departure Times

between 16:30 and 18:00
※Departure times will change depending upon the time the sun sets.
Operating Hours
April to July

Business hours are 9:00 am-5:00pm daily

September to October

We are closed every Wednesday, or on Thursday if Wednesday is pubic holiday

Auguset

Open daily

November to March

Closed every Wednesday and Thursday

※We are closed every Wednesday, or on Thursday if Wednesday is a public holiday.
Inquiries, bookings etc.
E-mail

Telephone

0134-22-1311

※Please make inquiries in English by e-mail.
Access
By land
Address

Otaru-Chikko 5-7, Otaru-Shi, Hokkaido, Japan

Car

About 45 minutes from Sapporo when using normal roads
(about 30 minutes when using the express way)

Train & Bus

When coming by train, please get off at Otaru-Chikko Station on the Hakodate Line.
The marina is a 12 minute walk from there.
When coming by bus, please take a bus that stops at or near Otaru-Chikko Station.
By sea
Location

Latitude 43°-11.2′N Longitude 141°-01.5′E